NINE ELMS TOWER - LONDON
London's Tower Nine Elms is located between Vauxhall and Battersea, where a multi-billion dollar investment is radically transforming the area into an ultra-modern residential and commercial district of international significance, destined to become the capital's new arts and cultural centre. The area is close to Vauxhall Cross train and bus stations and the underground.


The London experience of the Nine Elms Tower goes beyond the four walls: outside you can enjoy the new pedestrian areas and the beautiful public square. The Nine Elms area is home to the new Covent Garden market, the site of the new US Embassy and Battersea Power Station, a popular feature of the London skyline.


It also boasts almost two miles of Thames shoreline and, as part of the redevelopment project, will be enhanced by cafes, bars, restaurants, cultural attractions and public spaces. In addition, a new linear development park will make it one of the greenest neighbourhoods on London's South Bank and create 50 acres of new public space. All this and a host of other historic landmarks within walking distance.
Luxurious interiors - Versace Home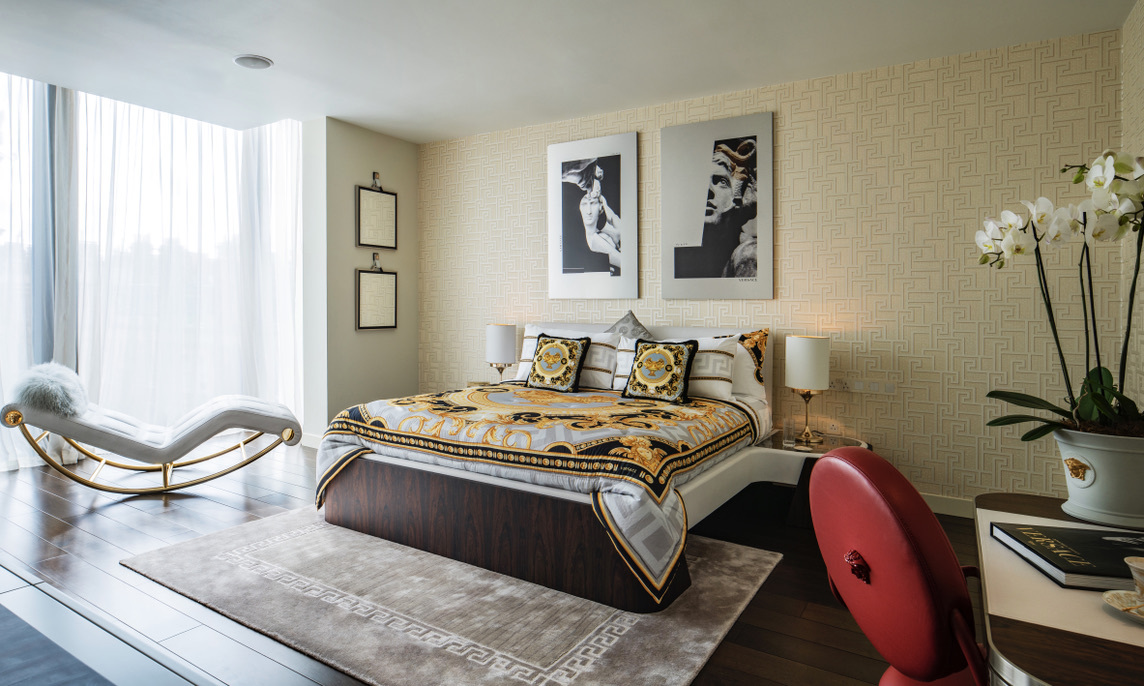 The Tower Nine Elms London offers the ultimate Versace branded living experience: luxurious interiors designed by Versace Home, in the first collaboration between the designer and a new residential property in London. With a height of 50 storeys, the ultra-modern building will stand out as a new icon in the city's skyline.


Stone, terracotta and glass come together in a fresh and distinctive world-class design to create an inspiration of luxury living, inside and out. Artistic Director Donatella Versace has overseen every detail of Tower Nine Elms London. Her design imprint is everywhere, from the iconic Versace-influenced mosaic walls of the spa to the intricate Greek key inlay of the bedroom doors.


The unique architectural composition has been carefully crafted to create striking views from every single part of the building. A tranquil atmosphere greets you when you enter the lobby of the Tower Nine Elms London. Meticulously crafted details, from the polished marble floor and Versace chairs to the friendly staff and fresh flowers, create the perfect atmosphere as you enter the building. The lobby is an elegant space, bright on sunny days and cosy and intimate in the winter months.